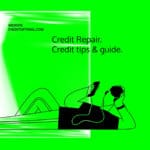 Defaulted payments can be detrimental to your credit score and make it hard for you to get loans and credit cards.
Late payments can stay in your credit report for as long as seven years, which is a significant amount of time – long enough to bar you from accessing loans with reasonable interest rates.
If your report shows some late payment, the effects it can cause – both immediate and long-term – could tank your credit score.
Beyond the apparent need to make timely payments, deleting delinquencies could be a viable option, especially if the default was unintended.
In this piece, we're going to explain the effects that late payments have on your credit score, how long they can stick to your report, and how you can drop them.
Why Delinquencies show up in Credit Reports
Two significant scenarios contribute to this occurrence: you either can have erred or not.
When you're not at fault, you may delete this late payment by filing a dispute with the respective bureaus. The information centres dislike inaccurate information on their databases, so if your claim can be substantiated, they'll take action to fix the errors.
In the second scenario, you may still be able to remove late payments from credit report by talking nicely to the bureaus, elaborating more of our situation, and resolving to be more accountable in the future. If you've had an incredible trend of payment with the lender, it would be a perk on your end though there's no guarantee that it would be fruitful.
Regardless of whether or not the late payment is your error, it would help if you always tried to remove it.