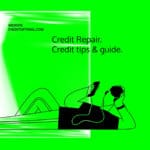 If you've been a client of a credit company and have applied for a loan or a credit card, you'll likely experience the possibility of a credit inquiry appearing on your report.
Essentially, when you borrow some money or applying for a credit card loan, the lender would want to get some form of information from you.
The lender usually gets information through a credit inquiry.
So why is it indispensable to watch the number of credit inquiries in your report?
Having a massive number of such inquiries could affect your credit score, and it's imperative to have a grasp of how it works and how to eliminate unauthorized or inaccurate inquiries from your report.