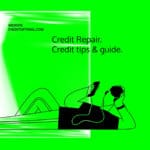 Closing a credit account isn't a guarantee that it will automatically drop from your credit report.
You might perceive that closing a credit card account would eliminate it from your credit report, but operates in an entirely different approach.
While closing the account prevents you from taking further loans using it, it is still going to appear in your report.
Legally, credit information centers have the right to have all the information displayed in your report.
This provision, however, doesn't mean that you can't remove it from your report.
In this article, we're going to highlight the essential steps that you'll go through before removing closed account from credit reports.