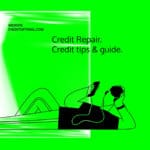 Each year, close to half a million (50%) of Americans file for bankruptcy.
Bankruptcies could stay in your report for up to a decade, depending on the category of the bankruptcy.
As a financial red flag in handling credit, assuming that bankruptcy is a result of fraud like identity theft or common errors could make you suffer severe consequences for almost a decade.
Having a bankruptcy in your report can be an enormous brick wall that hinders you from making progress and damages your fiscal health severely.
Usually, it's not in the interest of lenders to hide bankruptcy – they would use it as a reason to reject your loan application or give you incredibly expensive interest rates.
With so many people filing for bankruptcy, consequently having bad credit scores, you might find comfort in being part of the masses, but the best thing is fixing the issue and dropping it off your account.
This is how you can remove bankruptcy from your credit report.